As a business owner, you might sometimes feel overwhelmed with the idea of marketing your business online. You don't feel like you have the time or energy to tackle your company's content marketing or don't think that you have the resources to do it right. You continue to find ways to avoid developing and implementing a robust content marketing plan for your business.
What are your excuses for not implementing a content marketing strategy for your business?
Here are some of the common excuses many business owners use to avoid content marketing:
We don't know where to start
We don't know what to write about
We don't have the talent
We don't have bandwidth
We can't afford it
We don't have the time to produce content consistently
Our content lacks variety
As a business owner, you know that to be successful, you must find a way to attract high-quality prospects. To attract new customers while retaining your current customers, you have to have a solid marketing strategy in place. Creating a healthy content marketing strategy is not only good for your business but your customers too.
How can you overcome the excuses for not developing a solid content marketing strategy for your business?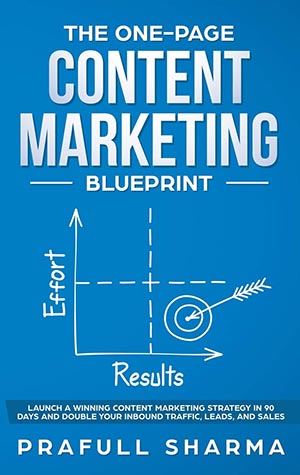 Gaining an understanding of what content marketing is and isn't and learning how to create content is a great way to start. And The One-Page Content Marketing Blueprint: Step by Step Guide to Launch a Winning Content Marketing Strategy in 90 Days or Less and Double Your Inbound Traffic, Leads, and Sales, a resource that details what you need to know to finally get results, is the perfect starting point for knowing how to create and distribute content to build an audience and create a successful business!
Here's how this guide can help you overcome your excuses and develop a solid content marketing strategy that will help you build a successful business.
The one-page content marketing blueprint that gives you the bigger picture of how the entire content marketing discipline works
The "Content Marketing Success Roadmap" showing you what to expect at each stage of the journey
19 chapters of actionable and simplified content marketing strategies and tactics that will start giving you results in 90 days
The LeadsPanda 2X "Content Marketing Results Method" that gives you 2X more traffic, 2X more leads, and 2X more sales in 12 months
Free templates and tools you can use to jump start your renewed content marketing campaigns
Actionable next steps and metrics to track at the end of each chapter so you know exactly what to do and what to measure to indicate progress
Unique content frameworks from tried-and-tested content marketing campaigns i.e. the R.E.S.U.L.T.S. Framework for blogging
With The One-Page Content Marketing Blueprint you'll discover the secrets for driving more traffic to your Website and increasing conversion rates to build a highly successful business. A solid content marketing strategy can help your business:
Increase sales
Increase costs savings
Obtain better, more loyal customer
Here are some more benefits you'll enjoy:
Gain a deeper understanding of why content marketing is essential for your business to succeed
Determine your primary customer and learn to create target content that will engage your audience
Create hard-to-refuse offers that will get you more conversions and increase overall sales
Write better content quicker and more consistently so you can get back to running your business
Have a treasure trove of content ideas that you can use again and again
Know how to distribute your content for the broadest reach
and much, much more!
Business Owners . Brands . Entrepreneurs…
…use The One-Page Content Marketing Blueprint to discover how to create a solid content marketing strategy!