Whether you are going on business or pleasure, traveling can be very stressful. Tension can start from the planning stage up to the time you are leaving. However, stress does not have to ruin your business or vacation. A well-planned vacation always means a happier, more enjoyable, more memorable and a safer trip. This guide has tips that are guaranteed to help you experience your trips without that travel stress bug.
Guidelines for Safe Traveling
It's important to be prepared for any eventuality when you are heading out of town. You can never tell what kind of situation you might have to face. So, be prepared to handle situations like disease, crime, or loss.
If you're traveling out of the country, you want to check to see if there are immunizations that are required to enter. You can check with the country's health department to see if there are any recommendations. While you have to complete some, you might also want to look into those that are just recommended. Talk with your doctor as to where these are given and get them well before you leave in case there are side effects that you experience.
You will also want to talk with your health insurance company to see what their policy is in other areas. You may need to pay for additional coverage for foreign travel, so be sure that you are covered no matter what happens.
When it comes to health abroad, it is best to keep away from tap water when you're abroad like most people do. For the same reason, if you are served with tepid meals, ask that they heated through thoroughly. And try not to go for the raw or semi-raw foods, or those not cooked a hundred per cent for fear they might contain bacteria?including guacamole and salsa dips, unless of course they are fresh, made when you order them.
Remember to carry some anti diarrhea drugs in case you get food poisoning. And if you do get it, drink lots of water and other fluid to re-hydrate yourself. Don't take chances if your symptoms persist — do see a doctor, or visit the local hospital for treatment.
You need to safeguard yourself against crime while traveling. Try not to carry too much cash with you, and avoid attracting attention by displaying your wealth. Do not bring all of your expensive clothing and jewelry to wear. It's better to wear travel clothes and remain low key so that thieves don't get interested in you.
Carrying traveler's checks in place of large check amounts is also better — because you need to show your identification and sign them twice to en-cash them. If someone steals them, you just simply call the issuer of the checks to replace them.
Additionally, to make sure you don't lose out in case something does get stolen or lost, try your insurer first. You might be able to get a valuables insurance cover policy to cover you while you are abroad. It will insure your new purchases abroad as well as protect your rented car and the items you carried for your trip.
All it needs is a little planning to make your trip as safe as possible. If you take the necessary precautions you will enjoy your exotic trip as though you're traveling anywhere in your home town.
Keep A Travel Journal
It goes without saying that memories of trips and vacations fade with time. If you learn how to keep a travel journal, this need not be the case. Traveling tends to be a schizophrenic event. On one hand, there is the trip you intended to take and may have even organized down to the tiniest detail. Then there is reality. Reality, of course, is what really happens as you head perpendicular to your original travel plans. It is these changes that provide the unique fodder to your trip that you'll want to remember for years. This is where keeping a travel journal become invaluable.
Keeping a travel journal is a simple task and worth its weight in gold. It's a given that you will forget funny little events as the years pass. There is nothing worse than reminiscing with a friend and not remembering what the heck they are talking about. This need not be the case.
The good news is keeping a travel journal is a simple task. First you'll need something to write in such as our Nomad Journals. Once you have it, the key is not so much what you write, but when you write it.
When traveling, there is more down time than any of us would like to admit. Sitting in airports, bus station and hotels gives you plenty of time to write. An ideal time is just before hitting the sack as you have a quit moment to reflect on the good, the bad and the funny snippets of the day. Since everyday holds interesting little adventures, try to write at least once ever two days.
The writing itself need not be complicated. You are writing the journal for YOURSELF. Don't worry about punctuation, grammar and so on. If you want to write paragraphs, then write paragraphs. If you want to just keep notes, then just keep notes. If you want to doodle, for the love of God go ahead and doodle. You will not be graded!
Although you are writing for yourself, there is one bit of information you should always write down. When you meet people while traveling, you tend to write down names, phone numbers and email addresses on thing such as napkins, maps and brochures. Much like socks in a dryer, these will mysterious disappear during your trip. If you keep a travel journal, you will be able to FIND the information when you return from you trip. Just whip open your travel journal, find the email address and you'll have a friend for life.
Keeping a travel journal is incredibly simple. You just write whatever you want. As time passes, you'll be happy you did.
Tips for Traveling Overseas
Here are some quick tips to make your travel easier and safer.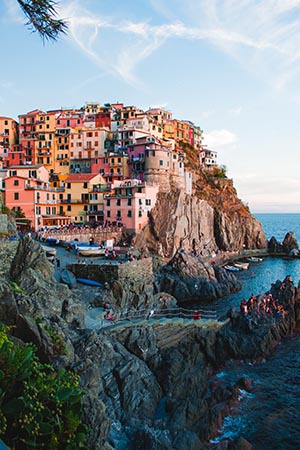 Register so the State Department can better assist you in an emergency. Register your travel plans with the State Department. This will help them contact you if there is a family emergency in the U.S., or if there is a crisis where you are traveling. In accordance with the Privacy Act, information on your welfare and whereabouts will not be released to others without your express authorization.
Sign passport, and fill in the emergency information. Make sure you have a signed, valid passport, and a visa, if required, and fill in the emergency information page of your passport.
Leave copies of itinerary and passport data page. Leave copies of your itinerary, passport data page and visas with family or friends, so you can be contacted in case of an emergency. Keep an extra color copy of your passport and visa and stick it in your wallet. Secure your passport in the hotel safe and carry the copy wherever you go.
Check your overseas medical insurance coverage. Ask your medical insurance company if your policy applies overseas, and if it covers emergency expenses such as medical evacuation. If it does not, consider supplemental insurance.
Familiarize yourself with local conditions and laws. While in a foreign country, you are subject to its laws. Laws in other countries may be stricter than at your home country. Learn the laws before you go. Regardless of what country you are visiting; do not get involved in drugs.
Take precautions to avoid being a target of crime. To avoid being a target of crime, do not wear conspicuous clothing or jewelry and do not carry excessive amounts of money. Also, do not leave unattended luggage in public areas and do not accept packages from strangers.
Contact the embassy in an emergency. Consular personnel at U.S. Embassies and Consulates abroad and in the U.S. are available 24 hours a day, 7 days a week, to provide emergency assistance to U.S. citizens. The Office of Overseas Citizen Services in the State Department's Bureau of Consular Affairs may be reached for assistance with emergencies at 1-888-407-4747, if calling from the U.S. or Canada, or 202-501-4444, if calling from overseas.
Prior planning will prevent future problems. It only takes a few minutes to register online, copy your passport, and check the local laws. It may save you minor aggravation or possibly time behind bars.
Basic Traveler's Kit
Never be caught unprepared during a trip. Plan ahead and stuff your bag with essentials things you need. The better prepared you are, the more fun you will have on the trip. Here's a checklist of what should be inside your traveler's kit.
Medicine Kit: Never assume that no mishaps will happen on a trip. Even minor bruises should be taken care of. Always keep your first- aid kit handy.

Treating Wounds — Bring along a roll of bandage, safety pins and scissors. Tweezers might be needed to pull out foreign materials that penetrate the skin. Bring ointments and alcohols for treating abrasions. If you are prone to allergies and itching, antihistamine medications like Benadryl should be handy.
Common Medicine — Carry along medicines that you are likely to use, like aspirin for headaches, laxative for proper bowel movement and pain relievers. If you have a runny nose, buy a couple of decongestant. Dehydration and motion sickness is common when traveling, consult your doctor on which medicine is appropriate for you.
Prescription Drugs — Remember to bring along whatever medication you are taking. Bring enough supply to last for the entire trip.
Personal Hygiene Kit: This kit must include all your toiletries. This will keep you looking fresh all the time.

Dental — Bring along your toothbrush, toothpaste and dental floss. Buy a small bottled mouthwash or if you have plenty of supply left, just transfer it to a smaller container.
Hair — Carry along your favorite brush, comb and shampoo. Stuff in your hair spray, hair cream and gels if you are using one.
Personal Effects — This will include your make-up kit. Remember to bring only the cosmetics that you are likely to use. Carry with you a handy mirror. You can bring your manicure set too.
Skin Protection — Keep your skin healthy by putting on sunscreen and lip balm as often as you need them.
Bathroom Needs — Bring along with you sets of toilet papers, soaps, towels and washcloth.

Emergency Kit: This includes the stuff you might need like flashlights, lighters, pocket knife and duct tapes. Mobile phones are important in case of emergency, be sure to bring your charger and an extra battery.
Leisure Kit: For added fun, you can bring along your travel journal, reading materials and the locale's language book. Make the most out of fantastic views with your binoculars and your camera.
There is no such thing as a standard traveler's kit. It varies upon the place and the activities you'll do in a certain place. The above kits are basically the essentials. Be sure to keep everything checked and have a fun trip ahead!
Top Packing Tips
Chances are packing properly won't make or break your next vacation — unless you forget something major — but it can still be more important to a pleasant voyage than you think. With constantly changing security regulations, here are some tips on getting your vacation off to a good start.
Don't overpack. It's better to re-wear clothing than to carry around items you don't need, and as a last resort you can always shop at your destination. Try to pack so that each piece of clothing can be paired with everything else, every top with every bottom.
Start with a base of one basic color. Black, brown and navy are versatile. Even in Europe, dress codes are relaxing at many restaurants, so you may only need to pack jeans (but if you have a specific restaurant in mind, check with it or your guidebook before going).
Colorful accessories brighten up both day and night outfits. A scarf or pashmina can double as a sash or wrap for your shoulders.
Buy small plastic bottles for your toiletries so you are not lugging around your six-month supply of shampoo.
Clear plastic bags let security inspectors go through your luggage more easily without having to unpack it. It has to be done, so you may as well make it easier for everyone-including yourself.
Try to pack clothes that don't have to be ironed. Vacation should be an escape from housework, and not all hotels have ironing boards available.
Surviving the Family Road Trip (or "No! We're Not There Yet!")
Traveling with the family can be a great way to spend quality time together but it can also be stressful. Increase your chances of a fun, stress-free and safe vacation by following these simple tips.
Beat boredom with child's play. "Are we there yet?" What is it about these words that go straight to a parent's spine? Keep kids entertained with some great car games that make getting where you're going half the fun. Magnetic board games, portable video games and classics such as the license plate game, "I Spy" and the alphabet game will keep energetic kids in good spirits and actively engaged no matter how long the journey.
Stop smart. When stopping at rest stops, make sure it's just your kids getting back in the car and not the bacteria and germs they pick up in the bathroom. Bring products that keep your family healthy, such as hand sanitizer and Lysol Disinfectant Spray, to kill rest stop germs that can be transferred from the rest room to the surfaces in your car. To prepare for those inevitable spills and "oops" moments, keep paper towels or wet wipes handy.
Eat right. Sure, you can stop at the rest stop for food-along with the thousands of other people on the road. But roadside dining doesn't always offer the healthiest choices. Instead, keep your family's bellies full with snacks that you can eat right in the car, such as trail mix, string cheese, fruit roll-ups, bottles of water, and fruit. These easy, convenient snacks are yummy (for them) and healthy (for you).
Keep everyone happy. Pick a destination that has fun activities for all ages. While it's tempting to head for the place that the kids will love, make sure there's something for mom, dad and grandma to do as well. Some top family vacation spots that offer something for everyone include Orlando, Fla., Anaheim, Calif., Williamsburg, Va., Hershey, Pa. and Yellowstone National Park.
Family vacations can be chaotic but immensely rewarding. And if you keep these tips in mind, you can help ensure safe and happy travels-at least until you get there.
Travel with Kids (Travel Prepared)
It is good to have your kids with you when you travel; this would surely open their eyes to a lot more of new knowledge and discovery. When you bring along your kids in your trips, this is not only a way of bringing them close to your heart but also through this, your child would definitely make him or her more aware about the world around him or her.
Well, when kids are with you, you need to be more prepared because as we all know they have special needs and we have to respond to such needs. With the tips provided below, it would surely help you get yourself prepared for the entire travel.
You have to bring with you some of the most useful things you could carry with you as you travel and as you reach destinations.
Band-Aids
Antiseptic hand gel
Small tissue packs
Sun screen
Dr.'s phone numbers
Tylenol (for children and adults)
A rubber door stop can provide extra security for a hotel room door
Small plug in nightlight – to help find the bathroom in the middle of the night
These things re for the activities you could have together in order not get bored and to get their attention fully,
Crayons
Mechanical pencils
Highlighter (good for word search games)
Paper
Deck of cards
Zip lock bags (collecting shells, storing food, wet clothes)
These are other things for travel uses.
Sun glasses
Hats/visors
Light weight wind breaker
Umbrella
Camera with extra film
A photo of your child in your wallet (in case you loose them in a crowed area)
Extra copy of birth certificates, photo id, travel reservations, airline tickets
With these pointers in mind, you would not surely miss the thrill and the fun, you would also be able to good at preparing for traveling like from the simple trips to those that require loads of planning.
Time-Tested Tips for Traveling With Toddlers
Traveling with toddlers can be torture. New sights and sounds can be overwhelming to a young child and vacation excitement can quickly turn into temper tantrums if you're not prepared. Here are 10 parent-practiced tips to help make traveling with toddlers fun.
Choose a Family-Friendly Destination: Skip the crowded tourist destinations and opt instead for a locale that is accustomed to having kids around.
Safety Rirst: Always make sure your child's car seat is properly secured. Also, use a removable window shade to help block the sun.
Pack Entertainment: "Best bets for entertaining your child in the car and hotel room include favorite books, games and toys," says Nancy Wolpert of Nickelodeon Home Entertainment. For all-inclusive entertainment, she recommends two new DVDs that feature a collection of kids' favorite TV shows. "The Nick Picks and Nick Jr. Favorites DVDs will keep them entertained for hours," Wolpert promises.
Plan Rest Stops: If you're driving, break up the monotony by stopping every couple of hours (or more frequently if necessary). Kids need to stretch out after being cooped up in a car for a while. Consider bringing along a ball to kick or throw around during these breaks.
Be Flexible: Set realistic expectations and let your child soak up the experience at his or her own pace. You might want to limit your activities to one a day. Otherwise, you could wind up with an over-stimulated toddler.
Bring Water and Plenty of Snacks: Fruit, granola bars, mini juice cartons and small boxes of cereal make for great, healthy snacks.
Bring a Beloved Item: A "blankie" or cuddly toy will help your toddler feel safe and secure. Be sure to have a replacement on hand, too. It will save you some heartache should the original get lost.
Start and End Your Day Early: Kids are at their best in the morning, so plan accordingly.
Stick to Your Routine: Eating, napping and playing at the same time each day may be all your child needs to feel comfortable in a new environment.
Take Lots of Pictures: They're only young once, so enjoy every moment!
Tips On How To Enjoy Traveling Alone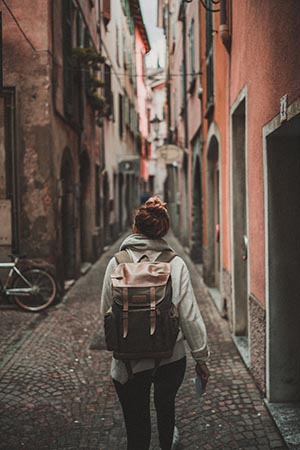 Want to go to a new exciting place, but don't have anyone to tag along? There may be times when you have to travel alone in a foreign land. Whether just for fun or on official business, you have to take safety measures. Traveling alone need not be lonely. It could be fun in more ways than one. Don't be reluctant to travel just because your on your own. Just remember these things:
Plan Ahead: Research and read about the place you're heading to. Know where's the nearest hotel, restaurant, and such. Make reservations too, if possible. That way, your travel is on a good start.
Take a City Map: You better study how to read maps. Needless to say, these can guide you where you are going, especially if it's the first time you're going to that place. Relying too much on the cab driver is not a good idea.
Learn The Language: Just study the basics, and the most common things you're likely to ask a local. Learn it before you arrive.
Hide Your Valuables: Put your guard up. Don't invite muggers to come and get you. Don't wear too much jewelry outside the streets. Use inexpensive accessories.
Dress Appropriately: Check what the locals wear on a given time of day. You don't want your clothes screaming you're a tourist. The lesser attention you draw to yourself, the better.
Don't Be Afraid To Ask For Directions: It would be okay to ask someone for directions, but be sure you are going to choose who to ask. You can ask a waiter in restaurant, or the receptionist in your hotel. Just be sure you get all information. Asking from a complete stranger outside is not advisable.
Bring Some Cash: Take just enough. Traveler's checks and credit cards are good, and it could be your primary mode of payment, but you might want to keep a few extra dollars in your pocket with local money.
Enjoy Yourself: Well, you are traveling, so make the most of it. Make friends with a local. Talk to somebody over lunch in a café. Get the addresses of the friends you make to send them a thank you card. Maybe next time, you'd be their host.
Traveling alone can be your best experience. With solo traveling, you will definitely learn more about your self and what you can do. Try it. It would be fun!
Traveling With Pets
Sometime things happen and you need to leave right away. If you have pets, this can cause a major problem. What if no one is available to watch your pet? If you don't want to leave you pet at a shady kennel where most dogs are kept in cages, you can simply take them with you; it's easier than you would ever imagine.
Most airlines allow pets. Some airlines even allow your pet to be carried onto the plain if it is small enough to put into a kennel that will easily slide under the seat in front of you. If the dog is too large, it will be kept in cargo which is temperature and pressure regulated just like the passenger area. It is imperative to make sure that your airline will make accommodations for your pet as there are a few discount airlines that will not. Especially if you buy your airline tickets online, call ahead to verify their policies.
Each airline that accepts pets will ask you to make reservations for you pet ahead of time because they can only carry so many pets each trip. It is important to make these reservations as soon as possible to ensure your pet's seat on the flight. Pets also require health certificates to fly. You can purchase one from your vet, but they only last for 10 days. If your voyage is longer, you will need to purchase another for the trip home.
As mentioned before, your pet will need a kennel/carrier. These can be purchased usually for very cheap at your local pet store. They come with padded inside walls and in various sizes from extra small to extra large depending on your needs. You will have to be careful with your kennel purchase as there are some carriers that aren't approved for airline travel and some that are. Be sure to ask the pet store workers for help if you need it.
There is no need to tranquilize your pet, either. Air travel will put your pet to sleep just like it does you. The only thing that may aid your pet in travel is to crate train it. Otherwise, everything will be fine! Have fun traveling with your pet!
Travel Tips for Students
If you are a student planning a trip overseas, here are some tips to help you with your trip. This list is not all inclusive, but it should give you a good start to a safe and enjoyable trip abroad.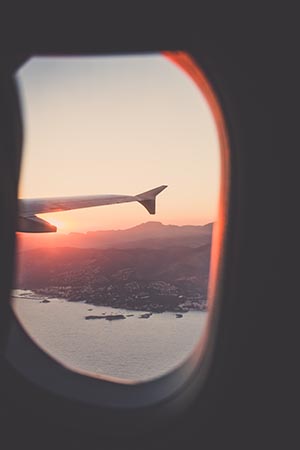 Make sure you have a signed, valid passport and visas, if required. Also, before you go, fill in the emergency information page of your passport! Copy or scan your passport and email it to yourself, leave a copy with family, and stick a copy in your wallet.
Read the Consular Information Sheets (and Public Announcements or Travel Warnings, if applicable) for the countries you plan to visit. Spend some time on the Internet doing a little research. Keep a binder with important information, phone numbers, maps, and anything else that will make your trip smoother.
Register your trip with the embassy — either online or upon arrival. Leave copies of your itinerary, passport data page and visas with family or friends at home, so that you can be contacted in case of an emergency. Keep your host program informed of your whereabouts.
Check with the CDC website and make sure your immunizations are current for the country you are going to. Make sure you have insurance that will cover your emergency medical needs (including medical evacuation) while you are overseas.
Keep out of jail! Study up on the local laws and customs of the countries to which you are traveling. Remember, while in a foreign country, you are subject to its laws! You don't want to spend one minute in a Thai jail.
Be responsible for your belongings. Travel light and do not leave your luggage unattended in public areas and never accept packages from strangers. You don't want to be the innocent mule carrying drugs.
Again, study the laws of the country you will be visiting. While abroad, avoid using illicit drugs or drinking excessive amounts of alcoholic beverages, and associating with people who do. The ACLU doesn't exist anywhere but America.
Dress casually and don't flaunt it — even if you got it. Do not become a target for thieves by wearing conspicuous clothing and expensive jewelry and do not carry excessive amounts of cash or unnecessary credit cards.
Deal only with authorized agents when you exchange money to avoid violating local laws. ATMs, official currency exchanges abound. Debit cards are better than using credit cards.
When overseas, avoid demonstrations and other situations that may become unruly or where anti-American sentiments may be expressed. Keep away from the embassy at these times.
Don't be a target for terrorists. Avoid the red, white, and blue T-shirt. Be on the look out for suspicious packages or people. Be alert at all times.
Check the latest travel rules and restrictions. Ensure you carry copies of your prescriptions for any medications.
Warp-Up Tips For Successful Travel
We love taking trips, whether it's a short road trip, or a longer trip by air to some distant exotic place. But all too often we fail to plan for our trip and the result is frustration and annoyance. Here are a few essentials you should always check before setting off.
It may seem obvious, but many people don't bother to find out the most basic things about the country they will travel to. You should do this to avoid surprise or disappointment.
Check on the kind of weather you will find where you are going. If you live in Florida and travel to northern Greenland, you will be in for a shock unless you know that much colder weather is normal there.
Be sure that the medical and general insurance coverage you have (you do have, don't you?) is adequate for your destination.
Do you have all the paperwork and documentation required for your trip? If not, get it!
Are there any diseases you will need immunization against where you are going? Check and find out before getting exposed.
If you plan on driving in the place you intend to travel to, check that you have an acceptable license. You may need an international driving licence, for example. And are you familiar with the local driving laws where you are going? If not, become familiar, fast.
For road trips, get the right maps and plan your route thoroughly. Everything won't go exactly to plan, but at least you'll have much fewer nasty surprises.
Never, ever make a joke about bombs or terrorists near security at an airport. Many people have jokingly mentioned they have a small bomb in their case as their luggage is being inspected. Later at the police station they deeply regretted their stupidity.
Be immediately suspicious in airports, railway or bus stations when someone bumps into you. It may be a pickpocket. Also be aware if something is spilled on you, or a spot on your clothing is pointed out to you. These things are designed to distract your attention from what is really going on: the theft of your valuables.
While cruises make planning easy with their all in charges, there is likely to be many extra items that you should budget for. These include, taxes, surcharges and fees, tipping, drinks, some shore excursions, shopping purchases, etc.
The most obvious thing to check on before setting off on a foreign trip is the state of the local weather where you are going. You don't want to arrive in a tee shirt if it's snowing, or in a fur coat if it's in the 90s.
When traveling with children bring along recent photos of each one. If a child gets lost, the photo will prove invaluable in helping to locate the child again.
A trip to a theme park will suffer from a lack of careful planning. Some parks are so big that planning is essential. Get a list of all the rides and a map of the park, as well as opening and closing times, before setting off.
Finally, the most obvious one of all. Is your passport up to date? And if not, do you have enough time to renew it before you set off? You'd be surprised, amazed even, at how many people get this one wrong.