Investors can build a fortune with Real Estate foreclosures and short sales when looking to turn a profit because these properties are often sold well below the ordinary value of the property because they are in varying degrees of disrepair.
Foreclosures are properties that have been taken back by the lenders because the previous owners were unable to continue making payments on the property. The shabbiness of many of these properties is one of the factors that keeps the prices down. Another is the fact that the lenders are essentially attempting to recoup their investment in the property. For this reason they are often willing to take less than the value of the property if that is what is owed on the property.
A Short Sale in Real Estate is one in which a house is sold for a price that is less than the amount still owed on the mortgage. It is up to the mortgage lender to approve a short sale. The difference between the sale price and the mortgage amount may be forgiven by the lender, but not always. It is important for you — the buyer — to calculate costs and be sure there is room for profit when the house is resold. It is best to do a Short Sale when the property is in the pre-foreclosure state.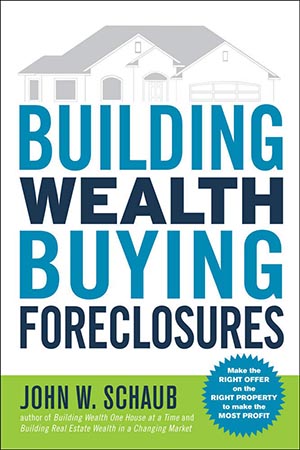 Building Wealth Buying Foreclosures is a fantastic way to hit the ground running and get your real estate investing business up and profiting quickly. This comprehensive program has everything you need to get started and grow you Real Estate investing business is included.
At the time of this writing, Foreclosures are at an all time high, which basically translates into more opportunities for you. Since foreclosures are increasing, this is the perfect time to jump into this because there will be more and more lenders discounting properties. It is safe to say that most lenders will accept a Short Sale, however, you may come across one or two lenders who will not discount. If the numbers work out for the lender they will do it.
It does not matter what type of house or condition it's in, all mortgages can be discounted. The best properties to perform a Short Sale on are the houses that need lots of work and repairs because lenders will give you a bigger discount. Properties that are over leveraged are also prime candidates. Most rookie Real Estate investors who see a house over leveraged with an upside-down mortgage may think there is no hope for this property. On the other hand, this is a sweet deal to the savvy investor. Properties with large second mortgages are also treated as gold because the second mortgage is wiped out at the foreclosure auction. Lenders with a second and third mortgage position would rather have something than nothing.
Learn more hidden facts about Foreclosure and Short Sale Real Estate investing in Building Wealth Buying Foreclosures.